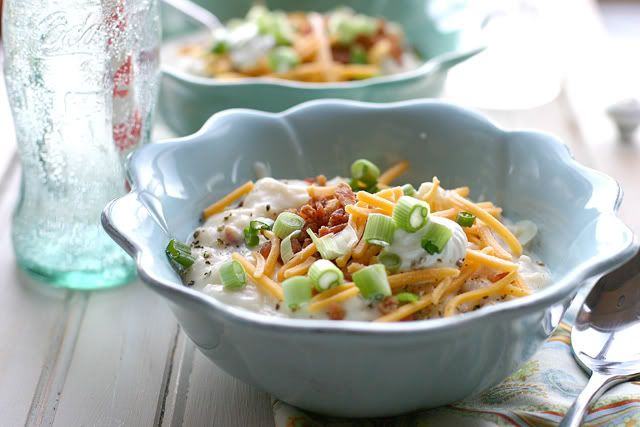 This is what I made for dinner last night. It was the first time I made it and overall, it turned out pretty good. It was a little thinner than I expected but very tasty.
Loaded Baked Potato Soup
Ingredients
4 stalks celery, finely diced
1 large onion, very well chopped
1/2 cup all-purpose flour
32 ounces cups chicken broth
2 cup chopped ham (optional)
6 baked potatoes, peeled and cut into bite-sized pieces
salt & fresh ground pepper to taste
Toppings: bacon bits, sharp cheddar cheese, sour cream, chopped scallions
In a large pot, melt 2 tablespoons of butter over medium high heat and saute the celery and onion until they are quite soft, about 4-6 minutes. Add the remaining butter to the pot. Once melted, whisk in the flour to make a thick roux, then turn the heat to medium and slowly whisk in the chicken broth, taking care to whisk out any chunky, floury pieces. Stir in the milk (four cups of milk, if you'd like a thicker soup, and more if you'd like your soup texture to be thinner).
Stir in the ham & baked potato pieces (Note: if you don't have baked potatoes lying around the house, you can either cook them until tender in the microwave--just clean them thoroughly, pierce them with a fork, and zap 'em for approx. 15 minutes--or peel & boil them in a pot of salted water until soft & tender. Either way works!) Salt & pepper to taste. If you're like us, you'll probably want a good amount of salt & pepper to really flavor that soup!
Serve with your favorite baked potato toppings. Enjoy!
Almost forgot to thank
Cheeky Kitchen Blog
for this recipe.