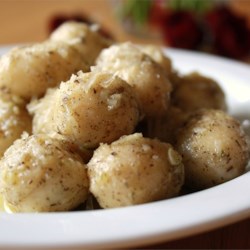 The other day I was looking for a really light dinner option. I had bought some gnocchi a while ago and found it hiding in the back of my pantry. I have only made gnocchi a couple other times in the past and Josh hasn't been the biggest fan. I, on the other hand, really enjoy it. Well this time I was able to win Josh over. I made this new recipe but with a few modifications. The recipe calls for sage, in fact the name of the recipe is supposed to be "Gnocchi with Sage-Butter Sauce" but I didn't have any sage so instead I substituted in Italian Seasoning. When Josh tasted the finished product he suggested I toss in a bit of chopped pepperoni (one of Keller's favorites.) I took his advice and in the end it tasted like gnocchi pizza. Add a bowl of fruit on the side and in ten minutes you have a simple and tasty dinner.
Note the recipe title change. To us, this is now "Gnocchi with Italian-Butter Sauce" but maybe you'll find another substitute for sage that will be just as great. And if you do, be sure to share!
Gnocchi with Italian-Butter Sauce
2 (12 ounce) packages potato gnocchi
1/4 cup butter
1 clove garlic, minced
1 teaspoon dried Italian seasoning
1/4 teaspoon salt
1/4 cup grated Parmesan cheese
1/4 teaspoon ground black pepper
2 tablespoons grated Parmesan cheese
1/4 cup chopped pepperoni
Bring a large pot of lightly salted water to a boil over high heat. Add the gnocchi pasta, and cook until they float to the surface, 2 to 3 minutes; drain.
Melt the butter in a skillet over medium heat. Stir in the garlic, and cook until the garlic has softened and is beginning to turn golden brown, about 4 minutes. Stir in the Italian seasoning and salt for a few seconds, then add the cooked gnocchi.
Toss gently with 1/4 cup of Parmesan cheese, pepperoni and the pepper.
Sprinkle with the remaining 2 tablespoons Parmesan cheese to serve.

Oops, I can't remember where I found this recipe. I'll have to look it up and get back to you.