Ah, Meals by Mel...what happened?
What can I say? I've been busy. I've been unmotivated. I've been distracted. Yes, yes and yes. But I think it's time to come back. I really enjoyed my food blog when I was doing it. And I know a few people who have actually referenced my blog and tried a few of my recipes. I even have a list of recipes waiting in my cue to share with you. So thanks to your positive feedback and requests for me to keep blogging, I am going to get my groove on and start cooking and writing again. Oh, and I know leaving comments are often difficult so I've added a few new buttons at the bottom of each post so you can quickly let me know if you 'like' this post.
As a way to kick things off, here's the Spanish Rice recipe that I promised to share with you back in February. It's super easy and oh so good!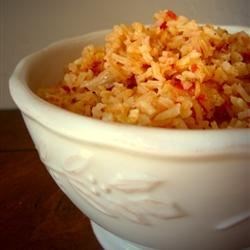 Spanish Rice
2 tablespoons oil
2 tablespoons chopped onion
1 1/2 cups uncooked white rice
2 cups chicken broth
1 cup chunky salsa
Heat oil in a large, heavy skillet over medium heat. Stir in onion, and cook until tender, about 5 minutes.
Mix rice into skillet, stirring often. When rice begins to brown, stir in chicken broth and salsa. Reduce heat, cover and simmer 20 minutes, until liquid has been absorbed.